Medical Studies on DHEA – Basic Facts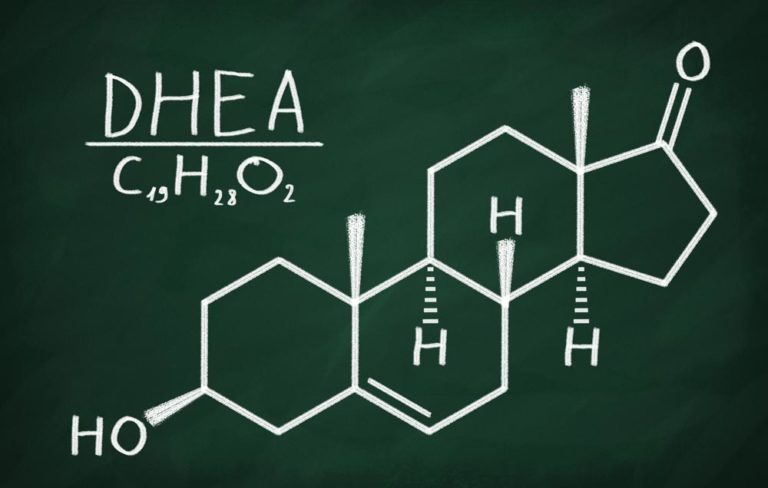 Independent of its direct effect, DHEA is also an important "prohormone" because it provides the basic building blocks for the production of other steroid hormones, such as the male sex hormone testosterone and the female sex hormone estrogen. In addition, along with other hormones, enzymes and vital substances, DHEA acts as a "buffer hormone" – a role in which it supports the balance of all physiological body functions.
Steroid Hormone With Highest Blood Concentration
Active DHEA is formed primarily in the adrenal glands, brain and skin, where it is synthesized from metabolites of cholesterol. Most of this hormone circulates in the bloodstream as DHEA-S, or DHEA sulfate, and is also bound to specific carrier proteins. Stress, severe chronic health conditions and certain anti-inflammatory drugs are known to negatively affect DHEA levels.
Like many hormones, DHEA levels decline as we age: Blood levels of DHEA are highest in youth, but decline progressively after age 25 and rapidly after age 40. This contributes to the gradual reduction in estrogen production and the onset of menopause in women, and the decline in the production of testosterone in men. Studies have clearly shown that men with androgenic disorders and women who have entered menopause have very low levels of DHEA that must be brought into balance.
Interaction of DHEA and Cortisol
DHEA is also closely related to the stress hormone cortisol. Thus, scientists have found that a disturbed balance of cortisol and DHEA production is linked to various health conditions associated with stress and the aging process. On the other hand, restoring the physiological cortisol-DHEA ratio creates a greater sense of well-being, especially in older people.